Building Materials and Construction Methods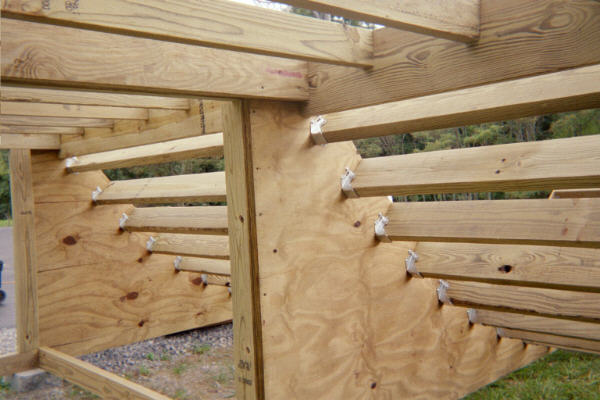 Ramp Frames:
ResiRamps are built tough using only the best materials. All ramp frames are constructed with pressure treated, weather resistant lumber unless desired otherwise. 2 x 6 transition joists are spaced 8" O.C. with the use of joist hangars for extra strength. Flat-bottom joists are spaced 10" O.C. Transitions are cut using a computer numerically controlled (CNC) router or they are precision cut on site using the "string and compass method". Standard radius for 4' high halfpipes is 6' 10 1/2". Most 4' high ramps are 28 ft. long from end to end. Deck-Mate brand screws used for construction. Every screw is countersunk to create a smooth, snag-free skating surface. NO NAILS! As a low budget option, or indoor ramp, the customer may choose to have ramp frame built with untreated lumber.

Footings:
No concrete slab is necessary. Ramp footings consist of strategically spaced and levelled concrete blocks.

Coping:
Galvanized steel coping comes standard.

Decks/Platforms:
Marine grade or composite 5/4" x 6" aesthetically pleasing and durable deck boards are commonly used.

Surfacing:
Halfpipe surfacing consists of a layer of 1/2" pressure treated plywood, and an optional additional layer of either black Paneltech surface (New!), Ramp Armor Deluxe, or Skatelite-Pro surfacing. The Paneltech surfacing comes in black only. The color options for Skatelite-pro and Ramp Armor Deluxe are: black, tan, or brown.

ResiRamps Team:
ResiRamps is skater owned and operated. Chad Bertelson (skater/owner) is the chief designer and installer. He has been skateboarding since 1986. He holds a masters degree, has architectural/CAD experience, and lots of building experience. For enjoyment and product testing, Chad personally rides each ramp with the customer upon completion.
Daryn Bertelson is ResiRamps' web master. He holds a degree in Mechanical Engineering. David Bertelson is our Registered Architect.



Pictured below: ResiRamps owner Chad Bertelson at an installation in Texas.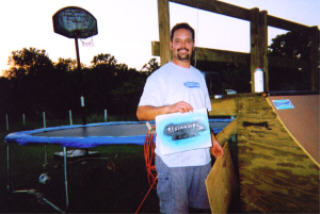 Pictured below: ResiRamps owner Chad Bertelson at an installation in Connecticut.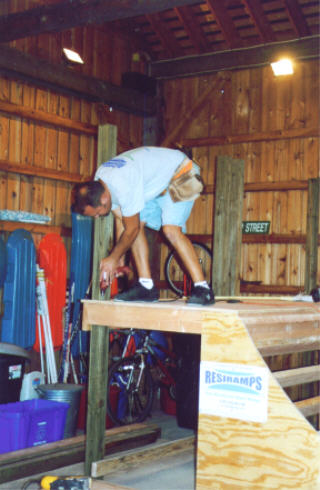 Pictured below: ResiRamps owner Chad Bertelson dropping in to the HGTV ramp.

ResiRamps Home